Table runners from the Otavalo Market
These beautiful table runners are handmade of Orlon>. We produce 3 models of table runners: Fish, Otavalo (a mix of indigenous, mud pots, sun and dreamcatchers icons) and Indio (a mix of llama, birds and other ethnic icons). The photos below show some samples of colors and models. You can also visit our catalogue of rectangular and circular tablecloths to see more colors. Some colors are brighter than others. Most of the photos below show the table runners folded in half. The table runners can be machine washed, and they will dry quite fast.

Approximate dimensions: (50x160) cm.
Unit price: $35 USD. Unit weight: 0.20 Kg. Worldwide tracked shipping: USA $42 USD.
Dozen price: $200 USD + shipping. Unit weight: 2.40 Kg.
*Payments can be made through www.paypal.com or bank deposit.
For any enquiries, please contact us at carla@carvieirahandicrafts.com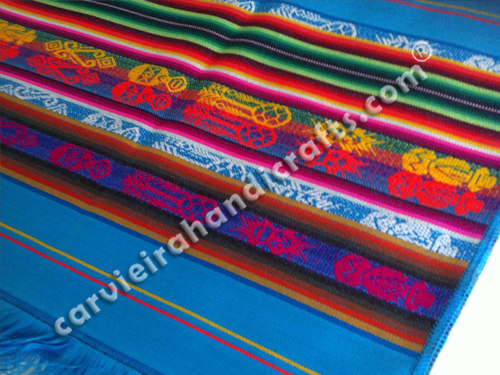 Model: Otavalo Turquoise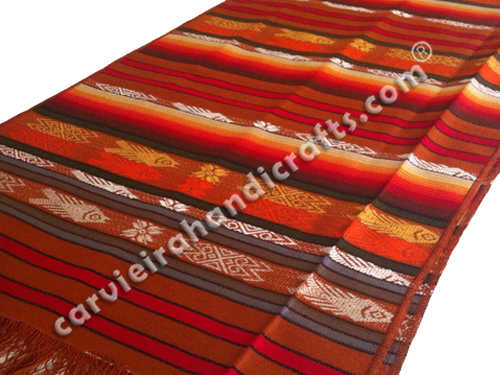 Model: Fish Caramel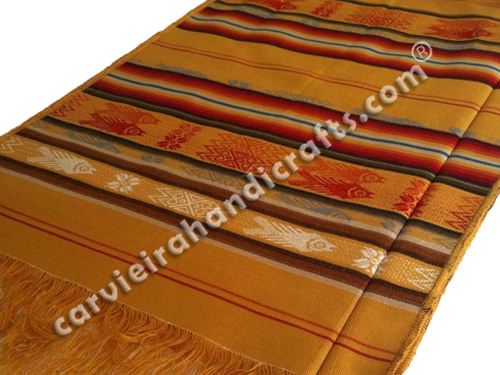 Model: Fish Mustard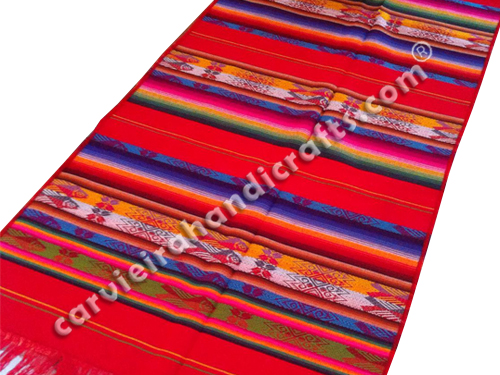 Model: Fish Scarlet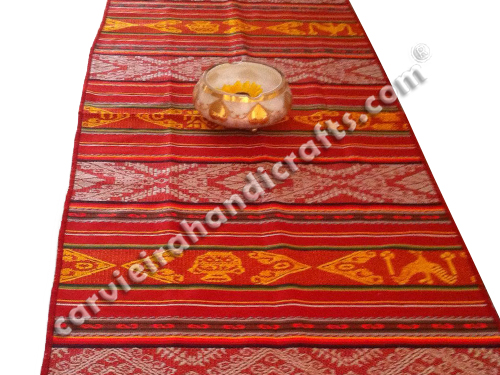 Model: Indio Terracota
*The icons in the 'Indio Tablerunner' might vary. Other patterns include icons of Llamas or Indigenous.
| | | |
| --- | --- | --- |
| | | |
| Model: Otavalo Terracota | Model: Otavalo Caramel | Model: Otavalo Cocoa |
| | | |
| Model: Fish White | Model: Fish Pearl | Model: Fish Yellow |
| | | |
| Model: Otavalo Turquoise | Model: Fish Orange | Model: Otavalo Blue |
| | | |
| Model: Fish Scarlet | Model: Fish Peach | Model: Fish Fucshia |
Orlon> Acrylic Fibre lightweight, soft, and warm, with a wool-like feel. It dyes very well and has excellent colourfastness. It is resilient, retains its shape, and resists sunlight, shrinkage and wrinkles. Thermoplastic. Low moisture absorption... (more)
You also might like to visit our other catalogues: